Mr. Charlie turns

2

this Wednesday!!
We celebrated 2 sweet years with a special Choo Choo Train Birthday Party.
Just a note: I took all of these pictures like this......
....(with little Walker all papoosed in) so, that's why some might look a little crazy.
Did you know that there is a helium shortage? Crazy.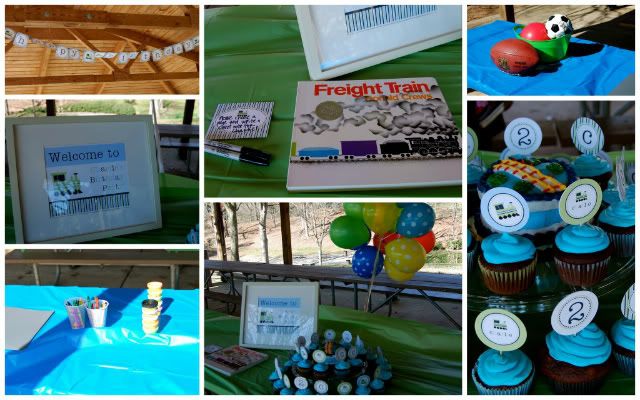 Top: Happy Birthday sign for Charlie (it was VERY windy), Train book for everyone to write a message for Charlie, Balls to play with in the open field beside the picnic shelter,
Bottom: Crayons and Play dough for the kiddies (even though my dad enjoyed the play dough more than the kids), Cupcakes and Balloons, Cupcake Toppers
Since we had the party at a park, I thought boxed lunches were the way to go! We had chicken salad sandwich and peanut butter and jelly boxes. (Plain peanut butter sandwich for Charlie). Also in the boxes were chips, a train favor cookie (that slightly resembled a train), a fruit kabob, a Wet One, and a mint.
Right: Cousin Ande is always eager to lend a helping hand. And Charlie added some special spit to the back cupcakes while blowing out his candles.
After eating and singing, we headed down to catch a ride on the train!
And had a great time riding the train all together.
With a few extra tickets in hand, the kids took a ride on the boats.
We had a fun time celebrating Charlie's birthday! The weather was absolutely perfect and the sun was shining bright.
This isn't all you'll hear of the little guy's birthday (of course). More to come on Wednesday.