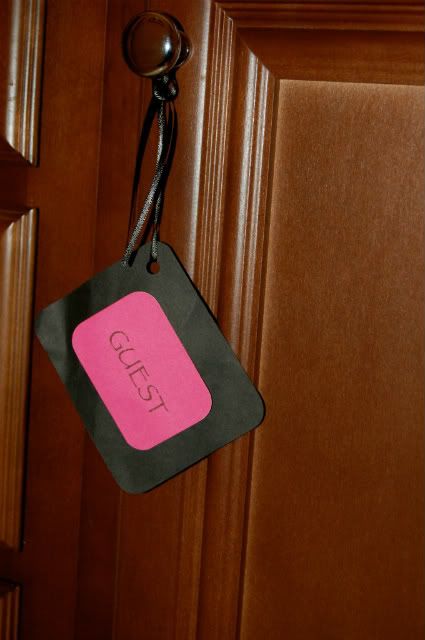 Yes, a certain little mister got hold of this tag, hence the bendage.
When people come over to stay, I like to have some extras around for them. (Mainly so my sisters won't be tempted to steal my razors.) I put together a little under-the-sink guest bundle for them.
Full of all the essential toiletry items you would need for an overnight stay.
I do wish my family lived closer. A month or so ago, while feeding Walker at my parents' house, I was looking out the window at the house for sale right across the street. I never imagined that I would have the thought, "Oh I wish I could live there!", but I did...and I do a lot!
It would be nice to have a quick face-to-face convo with my mom everyday, to take a morning stroller stroll with my dad, to have lunch with a sister, or play video games with my brother....(totally joking about the video games). It would be nice to snack over at my brother's place, though. You know those Little Debbie snack cakes that everyone loves but no one buys because they're so, extremely bad for you? He has a pantry full of them.
This week has been nice. The boys and I got to meet my dad for a Chick-Fil-A lunch on Monday and had a nice afternoon with my mom on Tuesday.
So, until they all decide to move closer to me, they can take advantage of this guest bin should they forget an essential toiletry item. I'm sure the men will especially enjoy the Sweat Pea Body Wash.