My little Walker man turned 4 months last Saturday!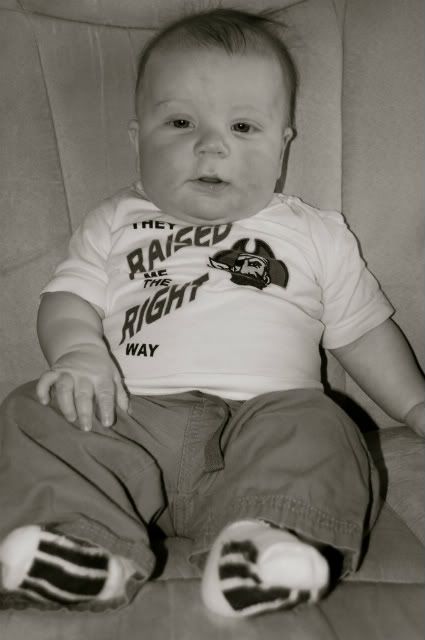 He is the cutest, sweetest, calmest, BEST baby of all time.
I usually dress my boys in a dressier outfit for their monthly photos.......
but, thought this ECU shirt (Go, Pirates!) flatters his figure so well!!
Weight: 18 pounds 2 ounces (!) 94 %
Length: 25 1/2 inches 68%
The doctor said that if he were 18, he would be 6' 1'', 240 pounds. Most definitely a football player.
Puts everything in his mouth
Enjoys helping mommy with laundry while sitting in the Bumbo
Still loves watching Charlie
Goes to bed around 7pm, wakes up at 5am to eat, and is up for the morning around 730am
Wakes up between 7pm and 5am wanting his paci (need to work on cutting that habit)
Watches his mommy like she is IT!!! His #1 lady.
Walker has been exclusively breast fed up until last week. Now, he gets one bottle of formula a day, which he does NOT enjoy. He's getting better at taking it, but after leaving him with my friend Sara, and hearing him refuse the formula til he turned a completely new shade of red when she tried to feed him, I thought it was time for him to get used to it.
I love you so much, my Walker boy. You are a sweet blessing in all our lives.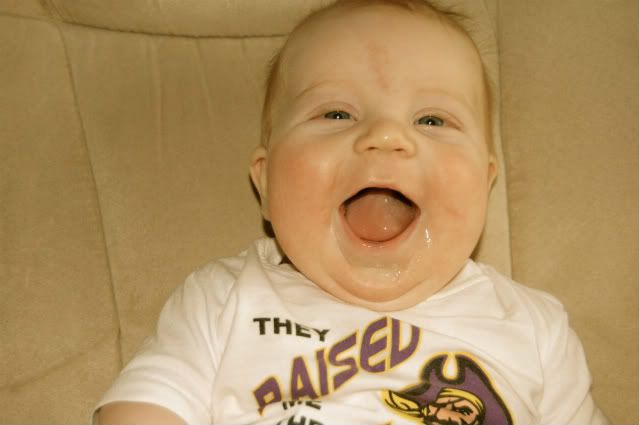 (I love baby smiles before they get teeth!!)