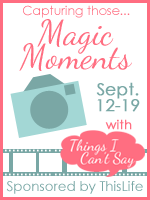 A "Magic Moment" is something you are so happy to have captured on camera.
Here are some of my magic moments.
Wedding Day: June 1, 2007
It makes me bitter to think about our pictures and photographer from this day, but I LOVE this picture.
Noel's friend held his camera up above the crowd and snapped this perfect moment.
Christmas Disney World trip 2008.
My brother had just returned home from his mission, my sister Jessica had just turned 16, and Noel had just graduated from State.
We had a blast celebrating Christmas in Disney!
We were both devastated from losing a baby that year.
This trip was the perfect get away. The weather was perfect...everything was just what we needed to lift our spirits.
Maybe the most magical moment of them all?
The birth of sweet baby Charlie.
This picture by Cat means so much to me.
Could there be a better father/son moment?
Look at the love in both of their eyes.
Just LOOK at Charlie's face!!!
He LOVED Santa and wanted to show him that he had been a very good boy that year.
Charlie announcing to the world that he is going to be a big brother!!
I'm excited to have more magic moments when Walker arrives next month!
Share your special moments here!